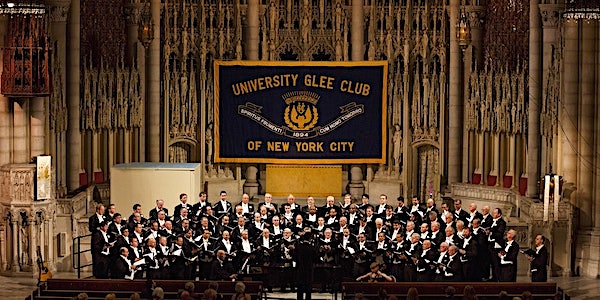 The University Glee Club of New York City's 256th Members' Concert will be held at the Church of the Heavenly Rest at 8pm on Saturday, May 6th. The UGC's set will begin with selections of serious music, including work by Verdi, Schubert, and more, that will match the beauty, stature, and stateliness of the church. From there, the music will shift to some traditional music arranged to highlight the sounds of a male chorus, a Beatles medley, and even some showtunes with our guest group, Treble. The evening promises to be a wonderful spring time celebration in yet another iconic New York City venue.
For Tickets, Click HERE!
The University Glee Club of NYC presents our 255th Members' Concert
The University Glee Club of New York City, with our guest group, the Dartmouth Aires, are proud to sing strong in the historic Riverside Church. This is our first in-person December concert in 44 years. Our songs celebrate the Holiday season and honor the acoustics of the church. Among them, we will sing a big band-style rendition of "Sleigh Ride" and with the Dartmouth Aires will tell our audience about the wine witches glittering in the glass and the fire goblins flickering on the ceiling. Come and enjoy our songs of joy, reverie, cluster chords, and ice gnomes — the perfect start to a great holiday season!
For tickets, click here